2010 November, part of AltCom 2010
C'est Bon Panorama III
Interpretations of the colorful world of the hero plumber
Exhibition November 12 – January 16 @ Biograf/galleri Spegeln
Opening: November 12 at 17:00
[Sofia Falkenhem, Martin Flink, Allan Haverholm, Cin Iwarsson, Sarah Kläpp, Jamil Mani & Elisabeth Nielsen]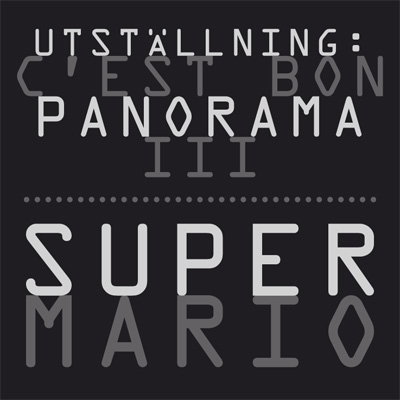 Super Mario is the pixeled hero with the big moustache, eating mushrooms, travelling through pipes and throwing turtle shells. Mario started his carreer as part of the supporting cast of Donkey Kong but soon got a leading part. So far, he shown up in over 200 video games. Many of us remember the early Mario from when a Nintento was a rectangular brick and you had to blow air into the games to make them work.
The sequential artists of C'est Bon Kultur present the third Panorama exhibition in as many years. The suite interprets well-known stories that most of us know and have a relationship to. It started with the oral tradistion of the Little Red Riding Hood, went on to the modern novel with Mary Shelley's Frankenstein and has now finally reached the beginnings of the digital age with Super Mario, the golden boy of Nintendo.
The participants are Sofia Falkenhem, Martin Flink, Allan Haverholm, Cin Iwarsson, Sarah Kläpp, Jamil Mani and Elisabeth Nielsen. Each artist makes their unique interpretation of Super Mario and his world. by breaking down and rebuilding, pixel by pixel.