The first incarnation of C'est Bon started out more like a zine in 2001, but evolved quite quickly into something else. At that time, participants were mainly the editorial crew and some friends. It lasted until 2004 when we decided to turn it into an international anthology.
C'est Bon 11
2004 April
Cover by Oskar Aspman.
FINAL ISSUE
Camping by Jacob Kindstedt
About a man, a fish and tomato soup.
Ghostwriter by Mattias Elftorp and Susanne Johansson
"Day three. I spend an hour in front of the mirror, contemplating the boundaries between worlds and perceptions. If there are any."
To be confirmed by Daniel Novakovic
"It was his twenty-ninth birthday, and so far his life had seemed fairly normal."
Communications by Mattias Elftorp
Cyberpunk: Three different points of view on a single event: 1: Theory. 2: Action. 3: Conversation.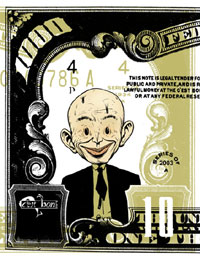 C'est Bon 10
2003 December
Cover by Niklas Asker.
Interior illustration by Susanne Johansson
Redthinkday by Oskar Aspman
A monologue about love.
Rise of the Metronome by Marja Tonteri Tillgren
What happens with the metronome workers when the mechanical metronome enters the scene?
Solitary by Jacob Kindstedt
About the choices you make in your life, and what to do with them afterwards.
Infotrip by Mattias Elftorp
Cyberpunk: Infotrip session. "I find her online presence. It's easy. I reach out, touch her. Physically and in text format."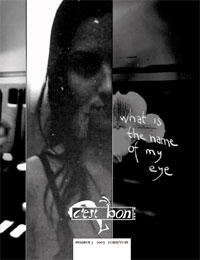 C'est Bon 9
2003 December
Cover by Mattias Elftorp (cover model: Linda Siewert)
Black Bird by Camilla Eklund
Eat the bird and taste the consequences…
The Flight Of The Bumble Bee by Niklas Asker
Hangover and teen spirit. The things you do for love.
The Use Of Compassion Explained by Oskar Aspman
An art installation about the great in the small.
Wires by Susanne Johansson and Mattias Elftorp
A story about the Master/Slave relationship.
Life In A Pickle by Mattias Elftorp and Oskar Aspman
"Hello?"

C'est Bon 8
2003 May
Cover by Jacob Kindstedt
X marks the spot by Niklas Asker
Death and Mayhem visiting a three-star hotel in Baghdad.
Bye bye, Mr Fluffy Bear by Jacob Kindstedt
Mr Fluffy Bear has just a little bit too much of the special tea.
What do you love? by Camilla Eklund
The dancing landlord.
Blackthinkday by Oskar Aspman
About the bravery of being out of range and different aspects on war.
Life is never now by Ambra Bolin and Mattias Elftorp
"And I have learned that life is never now. Life is what was before. Life is what taught me things."
C'est Bon 7
2003 March
Cover by Niklas Asker
The night before by Niklas Asker
"I look at her and ask myself for the hundredth time why I'm still with her, not to mention why she's still with me."
The monotonous work of the monkey lord by Jacob Kindstedt
A one word, slow motion picture story about creation/destruction/tea.
Anniversary by Mattias Elftorp
Cyberpunk: "I've been thinking straight for a year now. Some days, I miss that massive input of digital information and ideas. I miss the secrets, the thrill of the sin."
Desperation by Oskar Aspman and Linda Siewert
About a girl and the end of angst.
C'est Bon5/6
2002 November
Cover by Oskar Aspman and Mattias Elftorp
Mr Minamis Unwritten Story by Niklas Asker
Who is that guy you see every day, behind the counter of your neighbourhood store?
When The Stars Are Right (pt 2) by Mattias Elftorp
Conclusion to the superhero story. More nightmares. And Cthulhu wakes.
The Visit by Jacob Kindstedt
Who lives behind that white picket fence?
Whitethinkday by Oskar Aspman
There is a white light. When you look into it too long, you go blind for a while. This happens to everyone!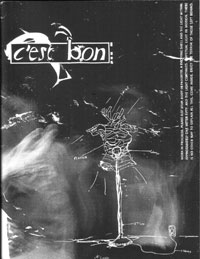 C'est Bon 4
2002 July
Cover by Oskar Aspman
Bluethinkday by Oskar Aspman
Trying to change something that is tomorrow but has already happened.
When The Stars Are Right (pt 1) by Mattias Elftorp
A superhero story. Nightmares and monsters.
Too Much Sugar Boy by Jacob Kindstedt
Zondrag, the giant mutant elephant is about to destroy Steve, the heterosexual undercover agent. But Steve is tricky.
Mr Bojangles in I Love Lucy by Daniel Novakovic
Violence violence violence.
C'est Bon 3
2002 February
Cover by Jacob Kindstedt
Midnight by Oskar Aspman
Another love story. And round and round we go.
Inbetween by Daniel Novakovic
"Now I'm looking for a woman but I'll settle for a shag." "Phone me tomorrow when you're sober." "I think that art should be like a Velvet Underground song."
Worms by Mattias Elftorp
About the relationship between worms and corpses.
Want some more lemonade?
Spacebugs by Jacob Kindstedt
Somewhere in outer space, a bit to the left, two thieves are trying to make a living. Spaceship battle included.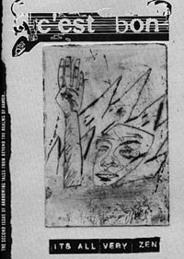 C'est Bon 2
2001 fall
Cover by Daniel Novakovic
Piracy Is Liberation by Mattias Elftorp
Cyberpunk: Information wants to be free. Information junkies and poltergeist programs and running from the infopolice.
Obituary by Oskar Aspman
About the love, and the flying away, and the falling into a vast numb sea.
Trying To Wake The Sleeping Giant by Jacob Kindstedt
Sometimes this feels lika a ghost story told in an investment bank in San Fransisco. But if everything goes as planned the land in northwest will in an odd and mysterious way dissolve. It's all very zen.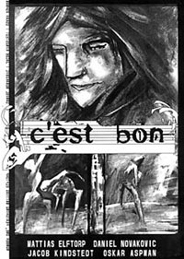 C'est Bon 1
2001 spring
Cover by Jacob Kindstedt and Mattias Elftorp
FIRST ISSUE EVER!
One Last Day by Jacob Kindstedt
Mr Moon hates his job. All he wants is for his daughter to start speaking to him again.
Sweet Misanthropy by Daniel Novakovic
Why is it so hard to understand? I just want to read my book in peace!
The Lord Of Flies by Mattias Elftorp
After the gods came through and divided the planet between them, two women meet in the postapocalyptic desert. But they are not alone.
Zombie by Oskar Aspman
About a girl and her angst.