CBK release weekend (Oct 16-17)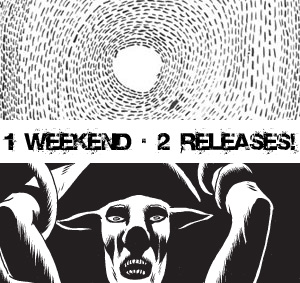 Two CBK releases coming up:
October 16 @ Tusen Serier (Mitt Möllan, Claesgatan 8, Malmö):
What we knew by Sarah Kläpp: Exhibition and release party.
SPECIAL RELEASE OFFER: Get the book for only 100:- SEK (ordinarily 150:-)!!!
Facebook event
October 17 @ Plan B (Norra Grängesbergsgatan 19, Malmö):
Creation of a god / Att bygga en gud by Henrik Möller & Lars Krantz: Book release/signing. Premiere screening of Almtorget crew from Videodirekt/Möllerfilm. + secret new film by Chrzu. +Live band: Scraps of Tape 
+DJ
Facebook event 
Entrance: 50:- (Swish or cash) or 100:- including the book (ordinarily 150:-)!
(there will be only a limited amount of books available at the door so come early if you wanna be sure to get one)
Sign up is a MUST. Do it HERE!