SIGNS AND SCIENCE
C'est Bon Kultur presents:
SIGNS AND SCIENCE
Release party for C'est Bon Anthology vol 28 & exhibition: "Space".
When? Thursday, April 23 2015
Where? Tusen Serier at Mitt Möllan, Claesgatan 8, Malmö
Who? Frøydis Sollid Simonsen, Karoline Stjernfelt, Mari Ahokoivu
+ artists from CBA vol 28
Frøydis Sollid Simonsen, Karoline Stjernfelt and Mari Ahokoivu have made the exhibition Space which has been shown in Norway can soon be seen in Finland. Now it comes to Malmö in conjunction with the release of the new issue of C'est Bon Anthology, which has the theme Signs and science and contains some of the comics from the exhibition. To celebrate this coincidence, we have added some of the other comics to this edition of the exhibition and turned the whole thing into a combined release party and exhibition.
Signs of science? The science of signs? Or neither, or both. How about the sleep depriving thought of eternity when you turn off the lights at night. Of the ever reaching deepness of space, black holes and the creation of photons in the core of the sun. How about when you get lost in thought, staring at your thumb, thinking about how the cells in your skin work and work and work, divide and fall off. The molecules they are made of. The vanishing weight of the atoms.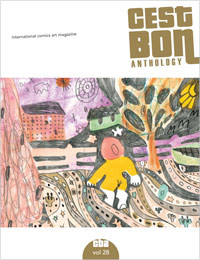 CBA vol 28 is also the last anthology issue from the former editorial crew. Since every other issue is a special graphic novel issue, vol 30 (September) will be the first issue from the (almost) completely new crew. In other words, this is the end of an era and at the same time the seed for what is to come, since it's already the new crew organizing this event.
Comics creators in CBA vol 28:
Steve Nyberg [SE]
Jamil Mani [SE]
Maciej Kalymon [SE]
John Daily [SE]
Marine Schneider [BE]
Carolina Hicks [US/SE]
Mattias Elftorp [SE]
Mari Ahokoivu [FI]
Allan Haverholm [DK]
Ylva Oknelid [SE]
Christoffer Frostgård [SE]
Karoline Stjernfelt [SE]
Milena Simeonova [BG]
Cover: Christina Cromnow [SE]
Illustrations: Emei Burell [SE]