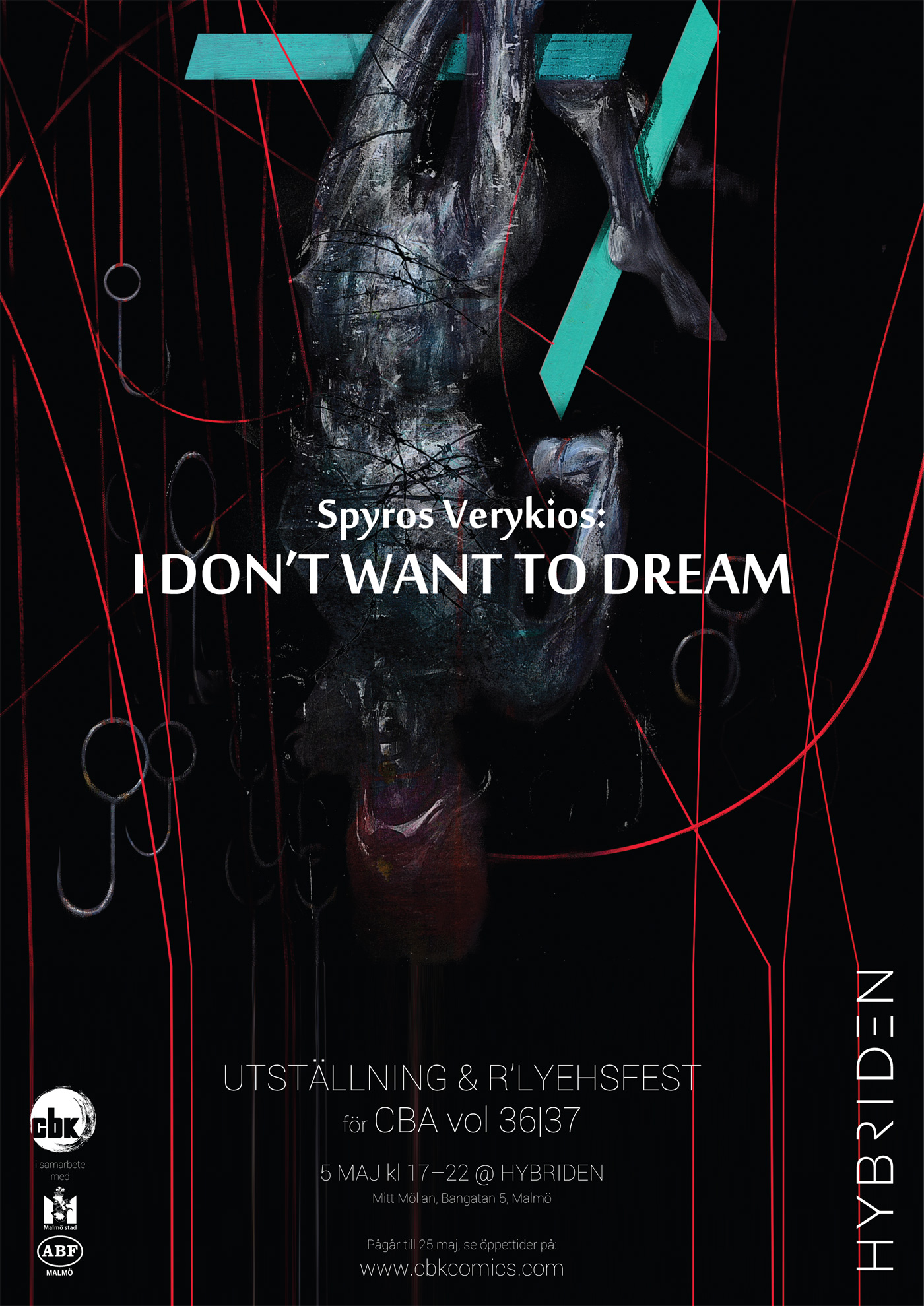 I don't want to dream: art exhibition by Spyros Verykios
& release party for CBA vol 36|37 by CBK
Opening: May 5, 17-22 @ Hybriden (Bangatan 5 / Claesgatan 8, Malmö)
The exhibition will remain until May 25 (Tue-Thu 14-18)
I don't want to dream is a comic of 43 pages, entirely painted in oil, by Greek artist Spyros Verykios. It is a metaphysical horror story about how an experiment with mind-expanding drugs has unexpected consequences – or is it something else entirely? The borders between what is dream, reality and bedtime story are blurred sometimes.
In this very special exhibition, we will show a selection of the original paintings from this comic. There will also be some unrelated bonus material included, such as the originals from another of Verykios' stories, published back in CBA vol 7.
Let's plunge together into the pits of madness. Let's watch the dissolution of reality, let's dance with clear heads and see where it takes us. Let's travel the river hiding in the desert sands until the wind rises and we reach the final collapse. Let's look deep into the eye of the tiger. And see afterwards if we dare to dream.
The exhibition opening is also the release party (or as we like to say, R'lyehsfest) for the new CBA vol 36|37 (pre-order it here) where I don't want to dream is included, along with three other stories, by Akab [IT], Elena Guidolin [IT] and Serena Schinaia [IT]. Cover by Radovan Popović [RS]. The theme for this volume is In the pits of madness.
Here are some samples from the exhibition (and you can find more from the book at our Instagram):
Also check out Spyros Verykios at Instagram and Behance.
The exhibition is organized with the support of Malmö Kulturstöd, in cooperation with ABF Malmö. CBA vol 36|37 was made possible with the help of our crowdfunders at Indiegogo.